Matt Lewis on Book Six; PotterCast #5 Transcript Online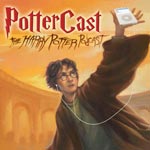 Sep 23, 2005
Uncategorized
The transcript to the latest PotterCast is up now, thanks to our lovely Transcription Elves! If you'd like to join the transcription team, please send us mail at [email protected].
Also, PotterCast now has its own forum in the Leaky Lounge!
This transcript contains the first part of our Matt Lewis interview, which will be continued this week and finished the week after. In this segment we spoke about the sixth book:
"MA: So, when we spoke last, you thought Neville was going to die.

ML: Yeah, I thought that maybe he just…Was that after the 5th book?

MA: Yes, it was between 5 and 6.

ML: Yeah, I thought so. I thought he had served his purpose now. He's gone and helped Harry and he helped get through that last bit, and I thought that that was it for him. Now he's gone. But he's still there fighting in the end as well in the 6th book. When, after all, you've heard that Neville's body went limp on the ground, I thought, "Oh God, two deaths in the one book." But no, he gets up and keeps on fighting.
To hear that, as well as our interview with punk band Harry and the Potters (including a new song!), get all our download links on our our episodes page. Enjoy!