Mary GrandPre Talks HP Book Seven and More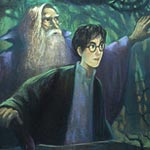 Sep 25, 2005
Uncategorized
Mary GrandPre, the illustrator of the US editions of the Harry Potter novels, has given a new interview where she talks Book Seven and more. In an interview with the Bradenton Herald, the artist says she will miss Harry when the books are finished, noting "It will be kind of like getting a kid off to college and out of the house when he's 18. I'll miss him in a good way." On Book Seven, the final book in the Harry Potter series, this article reads:
GrandPre is acutely aware of the gravity of the seventh and final book in J.K. Rowling's series about the boy wizard. The title and publication date have not yet been released. And, GrandPre doesn't know anything about its contents yet.

"It is going to be a huge book for everyone," said GrandPre, 51, in a telephone interview from her home and studio near Sarasota Bay. "I think a lot of loose ends will be tied up and a lot of loose ends will be kept open. It's going to be a really interesting time in Harry's life. "It's going to be a big deal," she said.

GrandPre is one of the few people in the country, besides editors at Scholastic Inc. of New York, who gets to read the top-secret Harry Potter manuscripts before the books are released to a Potter-hungry public.

She is months, maybe a few years, from receiving a completed manuscript of book seven; she assumes it will probably take awhile before Rowling, a resident of Great Britain, finishes the final book. But GrandPre knows from experience that it'll be a blockbuster.