Banned Books Week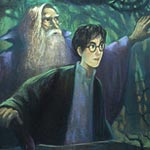 Sep 26, 2005
Uncategorized
This week is Banned Books Week, an effort TLC supports in the name of Harry Potter fans, and all those who can't be Harry Potter fans because the books aren't allowed in their libraries.
Each fall since 1982, the American Library Association (ALA) has started the school year by reminding Americans "not to take for granted their precious freedom to read."
Every year the American Library Association's office of intellectual freedom receives hundreds of requests to take books off shelves (otherwise known as a "challenge") for various reasons; this office estimates the number of challenges is actually four or five times higher than the number of challenges reported to them. J.K. Rowling's Harry Potter series is consistently challenged and banned from libraries around the country.
Harry Potter has enriched all of our lives; by supporting an effort to end censorship you may be responsible for getting that one extra child into a library to pick up these and then many more magical books.
ALA is a major cosponsor of this event, which is celebrated by booklovers, writers, librarians and fans of all stripes around the country. As the administrator of libraries around the U.S., the ALA works hard to encourage the notion that a library's fucntion is to present the widest range of materials possible, and that censorship never leads anywhere good. This is an effort to make people understand the inherent harm in banning any one book.
For more information on this week, visit ALA's FAQ.
To find out how you can support this effort, visit this page. In addition, please feel free to pass around the icon on this post for use on your personal blog, journal, LiveJournal, forum signature, anything. If you read HP, you read banned books, so let everyone know it!
We will be bringing you more on this issue in the episode of PotterCast due out tomorrow, in which we speak to fan librarians, discuss it with our mods, and present a special interview editor Heidi conducted with Beverley Becker, associate director of the ALA's Office of Intellectual Freedom about the banning process and how it affects Harry Potter. (Subscribe to PotterCast here to get the show automatically.)