New Katie Leung Interview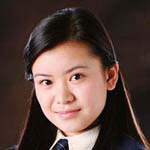 Sep 26, 2005
Uncategorized
Reader Julia sent us this scan of an interview with Katie Leung from the Austrian youth magazine "XPress," with this very rough translation:
"She Ensnares Harry"
Not only in the film she's making his wand glow: Katie Leung, 18, who has been picked of 3.000 applicants to play Harry's girlfriend [which fans of the books will know is incorrect; she is his crush, at least until OotP], also spent much private time with Daniel Radcliffe, 16.
'During the shoot we spent the weekends together', admits the 1.65m-tall Asian girl in an interview with Xpress and dotes: 'Daniel has unbelievable good manners and was always affectingly caring for me. He asked all the time: 'Are you okay? Can I bring you some water?"
She doesn't want to talk about love yet, because men are generally a
mystery for her, but she confesses: 'If i could choose magic powers, I'd like to read boy's minds!'"
Thanks Julia!