PotterCast Contest and Update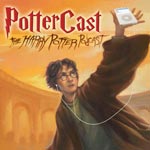 Sep 07, 2005
Uncategorized
Some quick PotterCast news: we're now listed on Podcast Alley, so if you'd like, you can vote for us! As usual, for all subscription links, visit PotterCast.com.
Also, here are the requested details about the Potter Impersonators Contest: We want to hear your best impersonation of a Harry Potter character. Pick a quote from the books or films and send us a voice mail. You can do this by:
1. Sending us an mp3 of your voice at [email protected]
2. Leaving us a voicemail by calling 1.425.29.62445 (1.425.29.MAGIK) in the US or +020.7193.2872 in the UK.
3. Getting our voicemail (for free) via Skype at username PotterCast.
Your voicmail must include only these things: Your name, where you're from, which character you'll be imitating, and the impression. The impression itself must be 10 seconds or less. We will post the top 20 impressions on the next PotterCast, and then readers will vote for the winner, who will receive a prize from our Cauldron Shop. The ones that have come in so far are pretty great.