PotterCast Shows Up in Apple Keynote – Jobs a PotterHead? – Also on Apple Store!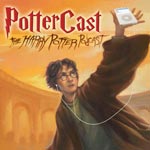 Sep 07, 2005
Uncategorized
More iPod news! And this time it's to do with our own PotterCast.
Today, during the same keynote in which Apple announced all this Harry-Potter-meets-iPod news, keynote speaker and head honcho Steve Jobs gave us a sneak peek into his personal library – where, downloaded, was not only PotterCast, but MuggleNet's MuggleCast. He said, with some amazement: "Do you know what though? There's even podcasts about Harry Potter. And here's some of them. It's amazing."
Yeah, that's right! Steve Jobs, PotterCast/MuggleCast listener? We don't dare to presume. But we are very grateful to the intern who downloaded us in there for the presentation.
(Reminder: Nooooooooooooo, you don't need an iPod to listen to PotterCast. All you need is a computer and an internet connection and clearly you have both! Visit Pottercast.com for all your subscription info.)
See screengrabs of us all in the big time, here and here! (Thanks to Andrew from MN for grabbing them!) You can watch the keynote by going to Apple.com and downloading it from a link at the bottom of the screen. The "key" moment is about 15:30 in.
UPDATE: Thanks to reader Jessica from Holland, we see that on this page, which is for the new iPod nano, if you click "Podcasts," a short animation scrolling throgh podcasts begins playing…and one of them is PotterCast! That's just cool. Thanks Jessica!