PotterCast on Apple eNews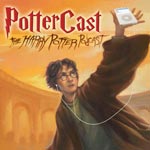 Sep 08, 2005
Uncategorized
Apple sent out its eNews newsletter today to its millions of subscribers about all the new products it unveiled yesterday, and they included the following:
"To date, customers have subscribed to over 7 million podcasts. No wonder: you can now find over 15,000 free podcasts on the iTunes Music Store. The number keeps growing all the time. In fact, we recently added such podcasts as NOVA scienceNOW, 2 Minute Photoshop Tricks, Travel with Rick Steves, and (much to the delight of fans of Sir Harry) the MuggleCast and PotterCast to our growing podcast library."
Excellent! Again, thank you to the people at Apple! Once again, you do not need an iPod to listen to PotterCast. Just go to PotterCast.com for all your subscription links and instructions! If you already have iTunes 4.9 or above, you can just click here for the broadcast!