Three New GoF Pics: Dan behind the scenes, Harry bigger than ever, Cho in Vogue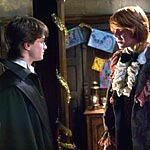 Sep 09, 2005
Uncategorized
HP4U just sent along this pic of Dan behind the scenes of GoF, looking quite morose as he's put into makeup (gills?) at what looks like just after 4 in the morning, from the time on the makeup artist's watch.
Also MuggleNet has posted two pics (one, two) of the Goblet of Fire poster huuuuge in Times Square. Looks like there's no comma (what might be a comma is more likely a break in the cloud in the photo). Chill, grammar police. It's not the end of the world.
MN has also posted a scan of Katie Leung in Vogue. Thanks guys!