Castwatch: Fiennes, Thompson on TV This Week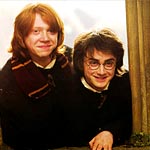 Jan 10, 2006
Uncategorized
Emma Thompson (Professor Trelawney) will be a guest on "The Tonight Show" this Thursday, January 12 (NBC, 11:35 p.m. ET), to publicize her new film, Nanny McPhee.
Also, as we told you last month, Ralph Fiennes (Lord Voldemort) will be a guest on "Inside the Actor's Studio" this Sunday, January 15 (BRAVO, 9:00 p.m. ET).
Thanks to everyone who reminded us to remind you!