Official: Goblet of Fire DVD Coming on March 7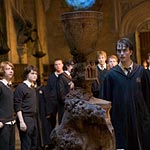 Jan 11, 2006
Uncategorized
As previously rumored here, the Goblet of Fire DVD will be released on March 7, as announced by Warner's Home Video today. It will be available as a single-disc, a two-disc special edition, and as part of a collector's set of the first four films.
The single disc edition will sell for $19.95; the double-disc will retail for $22.95, and the four-movie collector's set will be priced at $73.92 (all USD). A version for PSP will also be released, also at $22.95.
Update: Thanks Godric, for sending in this high-res pic of the back of the DVD. For very high res of all of it, visit DVDActive.com.
Trailers:
QuickTime (300K)
QuickTime (100K)

Windows (300K)
Windows (100K)
Windows (56K)
Features:
Additional Scenes
An interview with Daniel Radcliffe, Rupert Grint, and Emma Watson
Cast and Crew Interviews
Preparing for the Yule Ball featurette
Triwizard Tournament Challenges (Dragon, Lake and Maze)
Triwizard Tournament and Voldemort features
DVD-ROM: Hogwarts Timeline, Magical Trading Cards and Game Demo
Official art:
Collector's Set (First four films)
Double-Disc Edition
Single-Disc Edition