PotterCast #22: Part One of the Arthur Levine Interview and More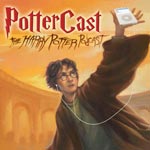 Jan 17, 2006
Uncategorized
PotterCast #22 is now available for download!
In this show:
-The first part of our interview with Arthur Levine, editor of the American Editions of the Harry Potter books. We set the record straight (finally!) on how Harry Potter crossed the shore to America, why Scholastic went with "Sorcerer's," and more.
-We announce a brand new fan fiction and fan art segment!
-Our Banned Book T-Shirt announcements, and the Voldy's iPod submissions, live on our new Fans section of PotterCast.com
-Marta's "Potterverse" drawing (part one of the key is here, and part two here; this art was reposted with permission from the artist, whose site you can check out at ArtDungeon.net)
-The first Harry Potter ship
-John wants to interview Hot Cheryl
-Project Fiddy Five coming to Leaky
-Put your name on our Frappr map
-Thanks to listener Shannon, we now have a fanlisting at PotterCastFans.com
-And a lot more!
Running time: 1:23:44
To listen: download and install iTunes, then click here to listen. Everything else is at PotterCast.com – you can also direct download it here, and discussion of the PotterCast is right here. ENJOY!