Leaky Shortlisted for Yahoo! UK Entertainment Find of the Year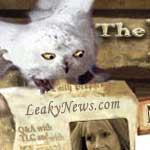 Jan 20, 2006
Uncategorized
Well, it only took us two weeks to remember to tell you and there are only five days left to vote, but at least we're in under the deadline: Leaky is very thrilled and honored to have been chosen by a panel of judges as one of the finalists in the Yahoo! UK and Ireland 2005 Finds of the Year (Entertainment Category). These awards will be voted upon by a panel of judges, but you can also, if you like, vote for us in the People's Choice Award for Find of the Year. (Note: It looks like there's no confirmation that your vote went through…so hope for the best!


The citation says:
Another year, another bout of Potter-mania. We kept up to date with all the Hogwarts news with this well-informed fan site.
Thanks so much, Yahoo! people, and everyone for the continued support during this incredible last year.