Castwatch: Emma Thompson Talks About Working with Kids and Animals, and More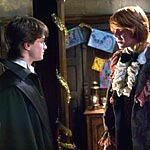 Jan 22, 2006
Uncategorized
In a new interview in today's Toronto Sun, Emma Thompson (Professor Trelawney) talks about bringing the "Nanny McPhee" children's stories to the big screen, a process that took her nine years. She also discusses childhood discipline and working with (many) children and animals.
"[The] donkey was supposed to be active," Thompson says. "And it just stood there . . . You know that thing they say at the end of movies — 'No animal was harmed, accidentally or otherwise' . . . well, I wanted to harm it. I wanted the end of (the movie) to say, 'Emma Thompson harmed the donkey!' Because I had a real, profound desire. That's a terrible thing to admit but there you go."
There are no Harry Potter references in the interview, but Ms. Thompson's customary wit and vivacity make it well worth the reading.