JKR: "Every Child Deserves a Secure and Loving Environment"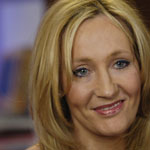 Jan 25, 2006
Uncategorized
There are some additional stories online now about author J.K. Rowling's trip to Romania as part of the Children's High Level Group effort to improve conditions for children in Eastern European orphanages. The Scotsman reports that at a press conference earlier in Bucharest, Jo said: "I firmly believe that every child deserves a secure and loving environment. I am keen to build on your success here and in the wider world." The Herald also reports that Jo expressed her concern over the plight of these children in some of institutions:
"The social problems that lead to the placing of children in institutions are complex and will not be resolved quickly; however, that is a good reason for making a start as soon as possible. There is now widespread agreement among child health experts that irreparable long-term damage is caused to young children who are institutionalised without a parent."
Later in the evening, J.K. Rowling attended a gala fundraising dinner, where some of the orphaned children played classical music for her, and 10 autographed copies of Harry Potter and the Half-Blood Prince were auctioned off in a fundraising effort.
We have some additional high res photos of her press conference below.
Group at Press Conference
Jo (Center) Baroness Emma Nicholson (center right), Romanian Premier
Calin Popescu Tariceanu, center, pose for a picture with Romanian
orphans who have made outstanding achievements in the arts, science
and sports, in Bucharest, Romania
Jo, The Prime Minister, and the Baroness
Baroness Emma Nicholson, Romanian Premier Calin Popescu Tariceanu, and
Jo