Warning: HP Email Scam Targets HBP Hopefuls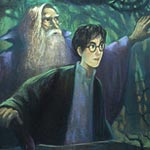 Jan 25, 2006
Uncategorized
The Toronto Globe and Mail is reporting an alarming email scam, targeting Harry Potter fans, particularly children. The bogus email appears to be from Warner Bros. and offers acting roles in the film version of Harry Potter and the Half-Blood Prince [sic]. The inevitable catch is that there is a fee for this "scholarship," sometimes as high as $3,830 (Canadian). Warner Bros. has issued a warning about this fraud on its official Harry Potter website.
"[T]he studio is worried about potential victims and is asking anyone who has been tricked to contact Warner Bros. lawyer Kate Chilton in Burbank, Calif., at [email protected]"
Update: Ms. Chilton has confirmed to TLC that WB receives ten queries a DAY (not per week, as stated in the Toronto Globe and Mail article) asking if this scam is, in fact, coming from Warner Bros. She also told us that Warner Bros. is working to move the warning on the official HP website to a more prominent position, rather than in the message boards where it currently resides. We'll keep you updated.