PotterCast 23: Part two with Arthur Levine and More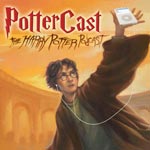 Jan 26, 2006
Uncategorized
PotterCast #23 is now available for download!
In this show:
-Part two of the interview Arthur Levine, co-editor of the Harry Potter books: Working with Jo, establishing the author/writer relationship, remembering the milestones, and a huge amount on the differences between editions – including the extra lines in book six
-John Noe, burning down the house.
-Take our survey!
-A pared down PotterCast: News, discussion, and Arthur Levine!
-John makes it to ChipotleLovers.com! (He's the new Jared.)
-The PotterCasters are exhausted. Andrew tried to take advantage of it. He lost.
Running time: 52:18
To listen: download and install iTunes, then click here to listen. Everything else is at PotterCast.com – you can also direct download it here, and discussion of the PotterCast is right here. ENJOY!