Happy Birthday, Leaky Lounge!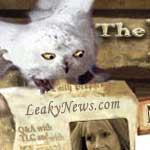 Jan 28, 2006
Uncategorized
It's a historic day here at Leaky; today, our forum, Leaky Lounge, turns one year old!
It's been a whole year since we opened the floodgates to nearly 30,000 of you and more than 500,000 of your posts. It's been a whole year since that first day, when 2,000 of you signed up, leaving all of us staffers who had bet on getting, maybe, 400 people in the first day, standing with our mouths open.
All the forum staff are deserving of their own plaudits – with such a huge team of moderators and aministrators, the Lounge has remained the fun, interactive, intelligent, fun, funny, fun place we intended it to be – but right now, we need to celebrate one person. Nick Rhein is entirely responsible for the Leaky Lounge. He came to us with a very detailed plan, a very strong vision, and the kind of willingness to work that is rare – so imagine our surprise to find out that over the past year, his dedication and work ethic have only grown stronger. Every day, Nick is making tiny changes, not-so-tiny changes, administrative decisions – every single day he makes that forum a little better, and it has paid off. We at Leaky are so, so, so proud and honored to have him on team. Nick, thank you so much.
And now…to celebrate! There's a party going on all day in the Lounge. Be sure to check out anguinea' amazing artwork when you visit. There will be surprises fro HP characters, favorite memories from staff members, butterbeer and cauldron cakes for free (though Peeves is continually throwing people's drinks around), special polls and suggestion boxes, a Floo-wide scavenger hunt (to being at 12 pm EST), and a special thread on Nick's plans for the forum during the next year is now available.
We hope you enjoy this special day around our pub, and a whole new year of forum fun to come!