Possible GoF DVD Deleted Scenes and More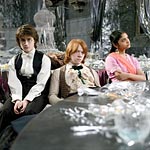 Jan 03, 2006
Uncategorized
We received word today of a list of some of the possible scenes that will be included on the Harry Potter and the Goblet of Fire DVD. A few of these things we had heard from the film makers previously that they might be included, as well as some of the calendar scans we saw previously contained scenes not included in the theatrical release. We can not yet confirm these are the DVD deleted scenes, and will update you once we get confirmation from Warner Brothers. You can read this list of eight scenes below.
Also today we heard that Best Buy has the Goblet DVD as being released in three formats, fullscreen, wide screen, and a deluxe version. This is the first time we have heard of a deluxe version; we don't know if this means it will come in a boxed set with the other three films, or if it is a special edition of the film. We can not yet confirm this, and are working on getting that nailed down as well. We were told as well that the Best Buy release date is marked as March 7th, which we also told you was a possiblity back last month.
All very exciting, but we consider this a rumor until we get word from WB. Thanks to Harry Latino for the list.!
SCENE 1: Dumbledore ask to his pupils to welcome the Durmstrangs and Beauxbatons students . All the Hogwart students then start to sing Hoggy Hoggy Hogwarts or the school song.
SCENE 2: A Durmstrangs student asks a girl if she wants to go with him to the Yule Ball. She says "yes" and the two friends make gestures in the background.
SCENE 3: Harry tries to speak with Cho Chang, but her friends are around her and the opportunity never works out .
SCENE 4: At the Yule Ball, Flitwick introduces the Weird Sisters band. The star singer addresses the crowd and then the music begins.
SCENE 5: Karkaroff tell to Snape about the mark on his arm. Snape ignores him and removes points to Fawcet and Stebbins, who are briefly shown, and Snape disregards Karkaroff's concerns then.
SCENE 6: Mr. Crouch and Harry are speaking, then Madeye appears as Barty leaves.
SCENE 7: The trio speaks about the death of Mr. Crouch. Ron thinks that the Daily Prophet will cover it up on Fudges orders. Hermione believes that this death, Harrys burning scar, and the fact that the Dark Mark had been cast , are too much of a coincidence, and she thinks Harry should go talk to Dumbledore about all of this.
SCENE 8: The trio discuss their suspicions about what Karkarov has on his arm. Hermione asks Harry what ingredients Snape think he stole from him, and she relises that they are all ingredients in a polyjuice potion.