A Sneak at Italian Harry Book Cover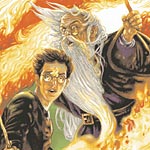 Jan 05, 2006
Uncategorized
Reader Mariano has sent us what appears to be the Italian cover art for Harry Potter and the Half-Blood Prince; you can see the whole thing here He has also given us a loose translation of the back text, which is this quote from HBP (which is from the English editions, not a translated Italian one):
""Oh, come on, Harry," said Hermione, suddenly impatient. "It's not Quidditch that's popular, it's you! You've never been more interesting, and frankly, you've never been more fanciable.".."Everyone knows you've been telling the truth now, don't they? The whole Wizarding world has had to admit that you were right about Voldemort being back and that you really have fought him twice in the last two years and escaped both times. And now they're calling you 'the Chosen One' — well, come on, can't you see why people are fascinated by you?"
As previously reported, this book goes on sale tomorrow, Jan. 6, in Italy.