Cedric's Death on EW's Tearjerker List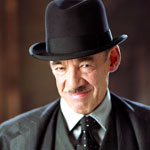 Jan 05, 2006
Uncategorized
Entertainment Weekly has listed Cedric's death in Goblet of Fire one of the top tearjerking moments of movies in 2005:
4. Harry Potter and the Goblet of Fire: The murder of kind and decent Cedric Diggory (Robert Pattinson).
It's the darkest moment up to that point in the Potter saga, as Harry experiences the death of someone close to him for the first time since he lost his parents. Meanwhile, he's forced to confront just how deadly his nemesis Voldemort (Ralph Fiennes) is, and how likely it is that their clash may claim the lives of more innocents.
Thanks Rose!