New J.K. Rowling Interview in Tatler Magazine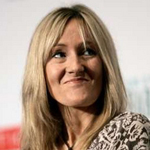 Jan 09, 2006
Uncategorized
The Telegraph newspaper has posted brief excerpts from a new interview with Harry Potter author J.K. Rowling that is published in the new issue of Tatler magazine. In this interview, JKR speaks about losing her mother to multiple sclerosis, and the impact it had on her.
"I know I was writing Harry Potter at the moment my mother died," she says. "I had never told her about [him]. "Barely a day goes by when I do not think of her. There would be so much to tell her, impossibly much."
The paper goes on to note that Jo had trouble adjusting to her life in the spotlight, due to the fame from the success of the Harry Potter novels.
"I have never said this before, but when I was repeatedly asked, 'How are you coping?', I would say 'fine' [but] I was lying to myself. I had lived under a rock for such a long time and suddenly someone had lifted it off and was shining a torch on to me. I was petrified and didn't know how to handle it."
Anyone with scans of this interview in "Tatler", please send them in! Thanks to Jason for the heads up!