Julie Walters Talks More on "Order of the Phoenix"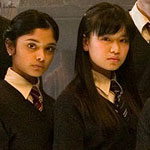 Oct 02, 2006
Uncategorized
Julie Walters has given a new interview where she talks more about Harry Potter and the Order of the Phoenix. Remarking that the sets for the new movie are "amazing," Julie also mentions the role of the Weasley family in this new movie ("Oh yeah, Christmas; we have a very good Christmas"), as well as working with the new director David Yates.
And working with new Potter director, David Yates, has been fabulous. She mentioned David brings a new style and feel to the set compared to Chris Columbus and Alfonso Cuaron. "He's very unassuming; they were in a way, Alfonso was, but he's fantastic. [David] is very into the emotional truth of it, the kids absolutely love it; he's very sweet and kind, and very, very into the story like a child is. And he's really into the emotional depths, and he's really fantastic, he's a lovely man.â€

And David sets a different vibe on set as well. "It's great, cause they all like him, and that's important; he doesn't shout or anything like that. There always is when there's a different director; it's very easy going. And it was always with Chris, and with Alfonso, it was just different ways. [David] is very unassuming, but he really knows his stuff.â€
Thanks Shmuel!