Live LeakyMug from California Now Available for Download; Potter Rules the Podcast Awards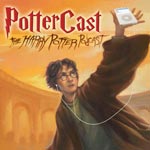 Oct 02, 2006
Uncategorized
When we rain, we pour: In addition to PotterCast #57 being released (all info here), you can now listen to our live Leaky Mug podcast from last Thursday at the Borders in Westwood, California. Get it via iTunes, direct download it here. Visit our site at LeakyMug.com to read all the blogs and listen to all the audio blogs from the last week.
What did we talk about at the show? Ohhhh, lots of stuff…Evanna Lynch, some "legal" (ie, WB won't kill us) details about the set visit, the new pictures, some really gross things Ben did, and the usual "voicemails" and other LeakyMug craziness. Big thanks to Chris Knudson for doing the audio and Borders for being fantastic in helping us produce the event.
Also, just in case you haven't read it on one of our sites yet: Thanks to you all, in California this weekend PotterCast picked up the Best Entertainment Podcast Award, and MuggleCast became the overall People's Choice Winner of the 2006 Podcast Awards. We had a great time and couldn't have done it without you, obviously. We're told that MC crushed its competition, and it logically follows, since we all voted for each other, that the same happened with PC. Yet another show of the Potter force. You all are really something.