PotterCast 57 Now Live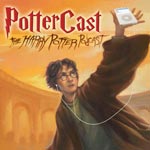 Oct 02, 2006
Uncategorized
PotterCast 57, our is Broadway Filkcast is up! To listen, just hit the "Play" button on the right side of the page (—>), or use iTunes, or direct download.) More notes:
-The trio talk all about the latest Jo updates, the Podcast Awards, California, England and more.
-Our first PotterCast Blog Challenge winner, and the first massive MySpace shoutout list
-Broadway filks! It's time for our Potter-meets-Broadway extravaganza. We had more than 70 submissions, so there's going to be at least two shows full of Filky goodness. Here's this week's playlist:
1. 'So Long Voldie,' by Harrysjulie
2. 'Filthy Muggles,' by MCFCC
3. 'Castle in a Shroud," by addreamy
4. 'Dementors the Musical' by bandersnatch
5. 'Welcome Back Voldemort' by jessaicas
6. 'Voldy' by ersed821
7. 'Thre's No Podcast Like PotterCast,' by kyra_bromberg
8. 'Defeating Voldemort' by Alyssa
9. 'Muggle World' by mokey
10. 'Cursing Through Life' by patricia
11. 'Crackpot Theory, restricted section' by Rosie
12. 'Hopelessly Devoted To Killing You' by Jeff
13. 'Working For You Know Who' by theGuruOfSloth
14. 'My Name' by brendan_reed
-In the wrapup, a surprise guest who gets on the show literally by knocking on the door
-Someone gets a kiss from Meliss
-Sue and John plan to sing…
-More next week! Don't forget to blog!
Running Time: 1:09:26
Final Edit: Mike Neighbors
Remember you don't need an iPod to listen; just a computer and an internet connection, which you already have! You can listen most easily on iTunes, which you can download and install here, by clicking here to listen, or you can just use the streaming Flash player at PotterCast.com or just on the right side of this page. You can also direct download it here, and discussion of the PotterCast is right here. We will also have a chat tomorrow (Tuesday) on the Leaky Lounge chat room at 4 pm EST, so log in at that time for that! Enjoy!