PotterCast 58 Live!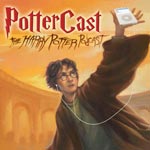 Oct 07, 2006
Uncategorized
PotterCast 58, Leaky's Harry Potter podcast featuring our second batch Broadway song parodies, is early and ready to go! To listen, just hit the "Play" button on the right side of the page (—>), or use iTunes, or direct download.) More notes:
-It's our second week of Broadway filks!
-Don't forget to blog (this week's challenge: How do YOU listen?; find out more about the challenge here), or about the PotterCast MySpace
-Coming soon: Interviews with the EA (Electronic Arts) people about the HP5 video game – send in your voicemail question!
-WOMBATs Round 2: The Jo phone and more
-Melissa's lost score; Sue's Outstanding (Squee!)
-A title after three WOMBATs?
-Melissa still wants to cook Evanna pasta
-Dobby is FREEE from movie five
-What's rusty water?
-Regular PC next week
-New DVD commentary soon?
-Sue and Melissa tap dance out
-Shoutouts galore
-And finally, a playlist of this week's flks:
1. "Magical Things," by Father Stuart (To "My Favorite Things," from "The Sound of Music") (16:07)
2. "You've Got a Friend," erinrae (To "They Can't Take That Away from Me," from "Crazy for You") (17:22)
3. "The Confrontation," by RylOraMcBeck (To "The Confrontation," from "Les Miserables") (18:41)
4. "That Charade," by HermyG13 (20:53)
5. "Maybefilk," by Gingin77, Snape44 (To "Maybe," from "Annie") (23:11)
6. "Genius," by Natalie_andrews (To "Popular," from "Wicked") (25:47)
7. "Out Tonight, Potter Style," by Blathnat (To "Out Tonight," from "Rent") (29:16)
8. "Seven Horcruxes," by Stewiegryf (To "Seasons of Love," from "Rent") (32:58)
9. "Horcrux on their minds," by Snape44 (36:42)
10. "HPP," by Christian/HermyG3 (To "Phantom of the Opera," from "The Phantom of the Opera") (40:56)
11. "Go Go Go Joanne," by Granfalloon (To "Go Go Go Joseph" from "Joseph and the Amazing Technicolor Dreamcoat") (45:14)
12. "Chatting Queen," by the Corner Booth Mods (To "Dancing Queen," from "Mamma Mia") (50:11)
Run Time: 1:06:53
Filk Cleanup: Stede Bonnett
Final Edit: Mike Neighbors
Remember you don't need an iPod to listen; just a computer and an internet connection, which you already have! You can listen most easily on iTunes, which you can download and install here, by clicking here to listen, or you can just use the streaming Flash player at PotterCast.com or just on the right side of this page. You can also direct download it here, and discussion of the PotterCast is right here. We will also have a chat Monday on the Leaky Lounge chat room at 4 pm EST, so log in at that time for that! Enjoy!