Rupert Grint Featured in "Parade" Magazine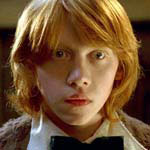 Oct 07, 2006
Uncategorized
Actor Rupert Grint is featured in "Parade" Magazine, which is found in many newspapers here in the states on Sunday. While the full article containing the interview with Rupert will not be online until Tuesday, there is this blurb posted about the piece:
In this week's In Step With…
James Brady talks with Rupert Grint, the red-headed pal of Harry Potter, about his real-life relationship with Daniel Radcliffe, who plays Harry, his upcoming movie, Driving Lessons, whether or not he's a natural redhead and more.
Online now however is a slide show of new photos of the actor that you can see via this link. Anyone with scans of the article, please send them in! Thanks Fdm!
UPDATE: Stephanie from RupertGrint.net let us know they now have a scan of the article, here. Thanks Stephanie!