R.A.B. Name Rumors Surface Again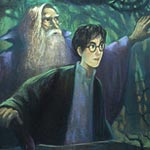 Oct 09, 2006
Reports are now online again of another supposed confirmation of the identity of the mysterious R.A.B from Harry Potter and the Half-Blood Prince. The question of R.A.B possibily being Regulus Black (the younger brother of Sirius) was first brought up in the TLC/MuggleNet interview with JKR shortly after the publication of Book Six, where Jo replied that Regulus "would be, um, a fine guess." In August of 2005 the first of the reports of the R.A.B translated name started to surface on the Lexicon, followed again in November with the Dutch and Norweigan translations of the book. The latest report comes via Nimbus, who cite an interview with the Portugese translator Isabel Nunes, who has apparently gained confirmation on the name. For the full name, please click this link for more.
Please Note: While this sounds entirely plausible, this is not the first time a translator has gotten supposed confirmation, and most likely won't be the last, but until we hear it directly from author J.K. Rowling, please consider this a rumor.
Thanks to everyone who emailed!