PotterCast 62 Now Live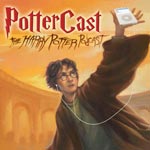 Nov 05, 2006
Uncategorized
Our 62nd episode of PotterCast, our Harry Potter podcast, is live: to listen, just hit the "Play" button on the right side of the page (—>), or use iTunes, or direct download. More notes:
-This week's Canon Conundrums: Will Dumbledore's portrait help Harry in book seven?
-Don't forget to sign up for Phoenix Rising to see PotterCast live!
-If Jo's bad at math, we can be too.
Did Voldemort have a Horcrux in the orphanage?
-Is the other OotP member Aberforth?
-Could Hermione die in book seven?
-The Listener Protection Act
-Voldemort has his special places
-Aberforth loves goats
-Kristin worries for Ginny
-Melissa the Seer
-More Equus discussion
-Post-it(r) Portraits
-Pirate!Dumbledore
-Morbid parrots
-Blog Challenge: Write get-well messages for John, make him feel better
-Layout-based blog challenge coming soon
-Filker alert! The holidays are coming!
  Editors:
  Canon Conundrums – Stede Bonnett
  Mailbag – Jeff Gregory
  Trio Segments and Final Edit – Mike Neighbors
Running time: 57:23
Direct Download (26 MB)
Direct Download (Low Bandwidth – 6.6MB)
Remember you don't need an iPod to listen; just a computer and an internet connection, which you already have! You can listen most easily on iTunes, which you can download and install here, by clicking here to listen, or you can just use the streaming Flash player at PotterCast.com or just on the right side of this page. You can also direct download it here, and discussion of the PotterCast is right here. Enjoy!