J.K. Rowling Video: Snake Lore May Play Role in Book Seven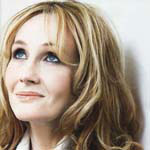 Nov 09, 2006
Uncategorized
Our partners at Accio Quote, the one-stop for J.K. Rowling quotes, have a find from all the way back in 2000 to share: an old and very rarely seen Web video of Stephen Fry interviewing J.K. Rowling on the occasion of book four's release, now in our Harry Potter video gallery, in which J.K. Rowling hints (here) that snake lore will play a role in book seven. She also speaks of how she wrote her books for "obsessives," her beginnings, the first film, licensing and much more.
Bewarned, however: This is OLD Web video, originally from Bloomsbury's Web site but long swallowed by the net and found only by much effort from Accio Quote. The frame rate is about a frame per second – which means it looks more like a slideshow than a video. The ever-important audio is intact, though. You can get these clips at the links below:
Part 1: "I'm not a very recognizable person."
Part 2: "I did think that if people liked it they probably would like it obsessively. But I thought it would be a obsessive few."
Part 3: "The most important thing when you're writing a fantasy is to set the rules."
Part 4: "I have since asked boys, would it have made any difference if I wasn't a woman? And they all said no. But maybe they were being polite."
Part 5: "I mistrust authors who introduce their characters [as] 'He was a slight young man with a whimsical sense of humor'."
Part 6: "There is something about that. There are so many legends attached to the snake. … I can't go on about that too long..you've got to wait for book seven."
Part 7: "I can only promise people that I'm in there fighting for the integrity of the world, constantly."
Part 8: "They tell me we're in preproduction, I nod wisely and say 'Ah, ah, good.'"
Part 9: "Knowing me I will start [the fifth book] when I get the urge."
Special thanks of course to the fantastic crew at Accio Quote! for finding these and our video guys, Chris and Andrew, for converting them into a format that everyone can view.