Avast! There be Pirates and Goblets and Snape and Jack Sparrow Yo Ho!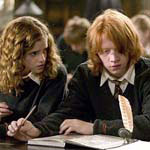 Dec 07, 2006
Uncategorized
Avast ye! The release of the brand new Pirates of the Caribbean: Dead Man's Chest DVD has seen Jack Sparrow and company try to make off with the record once held by our own Harry Potter. Variety reports that sales of this new DVD "tallied nearly 5 million sales in its Tuesday bow, tying the March debut of Warners' "Harry Potter and the Goblet of Fire." While Dead Man's Chest is on track to become the top selling DVD of the year, Goblet of Fire is still considered one of the years best sellers, reports CNN.
Speaking of the wonderful Johnny Depp… As noted at the end of a recent video interview posted here on TLC a few days ago, the equally wonderful Alan Rickman (Professor Severus Snape) will be singing a duet with Mr. Depp in Tim Burtons' s upcoming film version of Sweeney Todd. Coming Soon.net has an article today confirming that yes indeed, Alan Rickman will be taking on the role of Judge Turpin in this new motion picture production of the famous musical. (Resident Leaky Sondheim obsess- er- experts note that this means they will be singing the lovely – and, given the context, disturbing – "Pretty Women" duet.) The new film will also star Helena Bonham Carter (in the role of loony Mrs. Lovett), who will be seen as Bellatrix Lestrange in the Harry Potter and the Order of the Phoenix which co-stars of course, Alan Rickman. Phew!
(Now where has that rum gone? 😉 )