First Look: New Harry Potter OotP Toys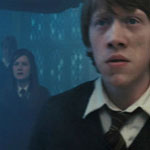 Dec 08, 2006
Uncategorized
Action-Figure.com has our first look at the brand new Harry Potter and the Order of the Phoenix toys coming next year. This first look shows the Harry Potter action figure, with one version showing Harry conjuring his Patronus. One photo shows the regular toy, others show Harry with the Stag Patronus accessory. The website writes of this preview:
" I can't give you the full details of the line yet, but what you won't be able to tell from the pictures below is that the line is 3.75″ scale! Yeah, I saw the sculpt and gasped as well (and I can tell you that the preapproved Ron and Hermoine I've seen in private look just as good!) This scale gives the line a lot of possibilities, a LOT of possibilities, that have me very excited and wanting to tell you more.

The Harry Potter figure has 14 points of articulation, and this seems to be something that will be carried across the line. The figure also comes with accessories of his wand and Patronus."
To see the photos of the new Harry toy, click here at the Cards, Inc website. Enjoy! These toys are due to be on shelves next Spring before the release of the fifth Harry Potter film.