J.K.R on Forbes Top-Earning Author List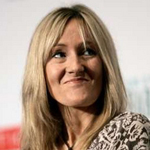 Dec 09, 2006
Uncategorized
It's that time of year for lists, and author J.K.Rowling has made an appearance on yet another list from Forbes Magazine, this time of the Top Earning Authors. The magazine says our favorite author came in second behind Da Vinci Code author Dan Brown, and claimed that Jo had earned "$75 million last year from book sales, royalties from Potter films and merchandising. The boy wizard brand is, in fact, so valuable that Rowling is the world's first author billionaire." In the photo section with the article, the magazine writes:
"Only a decade ago, the world had not yet heard of J.K. Rowling or her boy wizard Harry Potter. Today Rowling is the world's sole billionaire author. Worldwide sales of her Potter books have topped 300 million copies. Rowling is preparing to close the book on the series with the seventh and as-yet-unnamed installment. Meanwhile the film franchise is one of the strongest in history, grossing a combined $3.5 million in worldwide box office receipts. Harry Potter and the Order of the Phoenix hits theaters this summer."
Please note: We believe this article is slightly incorrect; previous estimates have placed the world wide box office receipts in the Billions.
Thanks Paul!