Harry Potter Actors Attend Collectormania G-Mex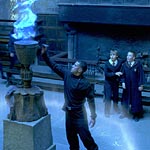 Feb 11, 2006
Uncategorized
Previously we told you that several actors from the Harry Potter films would be appearing at Collectormania G-Mex in England this weekend. One lucky reader was there, and confirms that Matthew Lewis (Neville), Robert Pattinson (Cedric), Stanislav Ianevski (Viktor Krum), Katie Leung (Cho), Tolga Safer (Karkaroff's Aide) were present, as well as an unbilled Afshan Azad (Padma Patil) were there signing autographs today. A special talk on Harry Potter was held, and TLC reader Marianthy let us know about some of the hightlights from this talk. She writes:
We managed to secure much-sought-after tickets to a panel where Matt, Stan and Torga (as they introduced themselves) were answering questions from fans. The whole discussion was deliciously funny and straightforward, except when someone asked whether there were any off-screen romances during the shooting of GoF – they said there was one that we'd never imagine but they couldn't reveal who were involved! Matt also described a prank played on Mike Gambon and Alan Rickman during the PoA scene where the students sleep in the Great Hall, involving a fart machine and much snickering by everyone present except for the protagonists themselves who carried on with their lines before they collapsed in laughter.

Torga was self-deprecating ("I'll be remembered as Aide forever"), Matt very sweet and funny, and Stan overly politically correct – and he didn't speak much at all, though he stated that he would give Viktor Krum many more lines if he had written the screenplay because he likes to talk more. A set of TriWizard Champions and a very succesful Malfoy family were among the fans attending, and of course the panel was the noisiest of
them all!"
Sounds like fun! A second Harry Potter talk is scheduled to be held tomorrow featuring Katie Leung and Robert Pattinson. Anyone with photos and reports from this weekend's event, please send them in! Thanks very much Marianthy!