New, More Complete Image of the Black Family Tree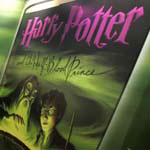 Feb 12, 2006
Uncategorized
Our partners at The Harry Potter Lexicon have sent over a scan from Italian Newspaper La Repubblica, of a more complete version (with some parts still blurred, on Jo Rowling's Request) of the Black Family Tree, which you can see here (a cleaned up version is here, and a redone version (typed out) is here. (If those aren't working try here for the redone version and here for the cleaned up one.)
The scan reveals several important things:
-One of Phineas's siblings names is Sirius, and another looks like Elladora
-Draco Malfoy was born in 1980, as suspected; Narcissa in 1955.
– Drusilla Rosier (perhaps) looks like the name for Bellatrix, Andromeda and Narcissa's mother, connecting the Malfoys to the Blacks.
And more! The Lexicon will be updated to reflect the new information. This family tree will be auctioned off on Feb. 21 on behalf of Book Aid International; more info as we get it!