Exclusive Leaky Reader Designed S.P.E.W. T-Shirts Now Available, More Noble Collectibles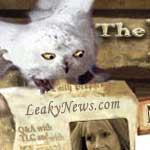 Feb 14, 2006
Uncategorized
The spew – that is, S.P.E.W. – shirts that Leaky readers designed are here! You can get them in hoodies, adult tees, kids' tees and women's fitted tees sizes.
Last year, you all created an "I Solemnly Swear" shirt with a WB rep in our Cauldron Shop forum that was so popular it sold out within hours of its release, we were told it was seen all over midnight parties for HBP, and now it has turned up on the Goblet of Fire DVD (thanks, Kelly Thompson of Michigan, for wearing it)!
Now, the next collaboration for our Cauldron Shop is ready for purchase, exclusively available to TLC readers for a week from the WB Shop. They say "S.P.E.W." on the front and read, "Society for the Promotion of Elfish Welfare" on the back; you can see pictures in the icon box on this news page and at the links.
For a limited time these shirts are available only through the Cauldron Shop and Leaky, as a thank-you to you all for your creative ideas and input that designed the shirt! Considering what happened last time, if you're interested, you might not want to wait:
We've also got a host of other great new items, including some beautiful new pieces from the Noble Collection:
The Harry Potter Hogwarts Quidditch Chess Set, a set with pieces for each house:

House pins in Gryffindor, Ravenclaw and Slytherin (check out pics below):


Purchasing through these links helps support Leaky and the entire Floo Network of sites, including the Harry Potter Lexicon, PotterCast, and QuickQuotes. Thank you so much for your continued support!