PotterCast #26 Now Available for Download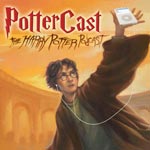 Feb 14, 2006
Uncategorized
PotterCast #26 is now available for download – Happy Valentine's Day!
In this show:
-It's our Valentine's Day episode! Your called-in Valentine's, your 'ships, your song parodies and lots of love talk in a show so gooey it drips out of the screen (yech).
-John corrects Sue and Melissa in HP Trivia
-The world therefore ends
-John and Kelazma sing from "Wicked," Sue and Guru as Arthur and Molly, Guru of Sloth as Gilderoy Lockhart with "It Has to Be Me, and many more!
-Activity on the Galleries forum (finally!)
-Melissa's still giddy over the upcoming Goldenberg panel
-Shipping in the modcast: rabid shipping, canon shipping, shipping in the forum, shipping after book six, shipping brawls, moving on from shipping, shipping shipping shipping shipping
-(Don't worry. We'll explain what a ship is.)
-John-John
-Melissa's lack of mic windscreen makes for some breathing. Sorry, guys, will be fixed next week.
-The Marge of Maryland joke explained
-John says sink, Sue says melt…
-Coming on PotterCast: Movie Audio Commentaries – if WB won't do it, we will!
-Six months of podcasting!

Running time: 1:13:13
To listen with iTunes, click here. Everything else is at PotterCast.com – you can also download it directly here, and discussion of the PotterCast is right here. ENJOY!