Goblet of Fire Wins BAFTA Award ; Grint, Staunton, Fiennes Attend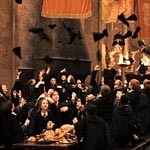 Feb 19, 2006
Uncategorized
Update: The pictures are starting to come in from you all, so watch this space. We've just put up some pics of Rupert Grint and Ralph Fiennes in the gallery, with more coming as the day goes on. Thanks to reader Grace we also have pics of Ms. Staunton here. If you'd like to send pics please do so at [email protected].
The British Academy of Film and Television Arts awards are being held tonight in London, England. Harry Potter and the Goblet of Fire had been nominated in three categories, and won one award for "Best Production Design." Congratulations! You can see a photo of Goblet production designer Stuart Craig and his award at this link. Here in the US, this program will be broadcast on BBC America tonight at 8pm ET. Many actors from the Potter films are attending tonight's event, including Rupert Grint (Ron Weasley)who presented the award for "Best Editing". Actor Ralph Fiennes (Voldemort) who was nominated for his performance in "The Constant Gardener" was there along with Imelda Staunton (Umbridge in Phoenix), John Hurt (Mr. Ollivander), and Stephen Fry . You can see press photos here and here.
Update: Rupert Grint.net is reporting that Rupert has arrived and is wearing a nice black suit. They have screencaps up now from an interview he gave to Sky News as well. More when we get it!
Update # 2 – Video of Rupert's interview is on RupertGrint.net now