PotterCast #27 Now Up!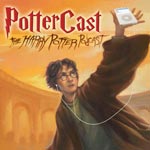 Feb 21, 2006
Uncategorized
On a roll, guys… our 27th PotterCast is now up and ready for download.
In this show:
-Filkmaster Guru of Sloth in the fan interview. Will he sing?
-Lori and Guru become your modcast regulars
-Harry Potter loose ends in the modcast – and have you seen our section on the subject and sent in your own list?
-Baby Nora greets Boddercast listeners
-Will the full Black Family Tree be shown? (We asked this before being proven dead wrong in news)
-The blood cocktail
-Melissa beats John (really)
-Nobody mess with Evanna Lynch!
-John (Shiny Blue Gold Sequined Hotpants Noe) plans to retire the day of the book seven release
-PotterCast retires the spoiler warning (Listen, if you haven't read the book, do that first, k?)
-Fan Art Challenge: Snape as a house-elf (don't ask)
-Voicemail Challenge: Who's your favorite new cast member?
If you are new to all this podcasting stuff, it's really easy: download and install iTunes, then click here to listen. Everything else is at PotterCast.com – you can also direct download it here, and discussion of the PotterCast is right here. Have fun!