Half- Blood Prince Nominated for British Book of the Year Award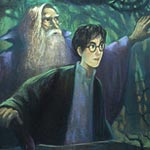 Feb 22, 2006
Uncategorized
We have some good news this morning as Harry Potter and the Half-Blood Prince has been nominated at the British Book Awards as one of the best of the year. In awards announced today, the sixth Harry Potter book by J.K. Rowling was among those shortlisted for the WH Smith Book of the Year award. The books on the list this year include:
Harry Potter and the Half-Blood Prince – JK Rowling
The Insider – Piers Morgan
Jamie's Italy – Jamie Oliver
Margrave of the Marshes – John Peel and Sheila Ravenscroft
Sharon Osbourne – Extreme: My Autobiography
The World According to Clarkson – Jeremy Clarkson
These awards will be presented on March 29 in London. These awards are also open for voting by the public and if you like, you may vote via THIS LINK. Voting goes through March 27. Congratulations Jo!