Riddle Actor Talks Potter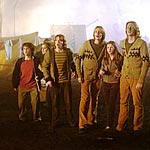 Feb 23, 2006
Uncategorized
BBC Norfolk interviewed former Tom Riddle Christian Coulson regarding his role in the new stage adaptation of Festen. In the interview, Coulson addresses Potter:
"I hadn't read the books until I auditioned. They saw about a thousand people, in the end they got down to three and then they camera tested me and that was it," said Coulson.
"Of course it was exciting. The part really chimed with me when I read the book and I felt very strongly there was something I could bring to the character.
<</p>

"When the sixth book came out last year [Harry Potter And The Half-Blood Prince] he's back in it and I felt those feelings again," he added.
More at the link!