Goblet of Fire Award News Roundup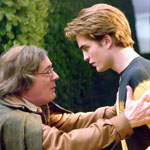 Feb 24, 2006
Uncategorized
We have a few pieces of news today regarding some awards for Harry Potter and the Goblet of Fire. The BBC reports that music magazine NME readers voted Goblet of Fire as the "Best Film of the Year." Musician Jarvis Cocker, who played in the band during the Yule Ball scene, was there to pick up the award. Congratulations!
Previously we told you that actor Daniel Radcliffe had been nominated at the TRL awards for his guest appearance while in New York promoting GoF. The results have been released to the press early, and while Daniel unfortunately lost to Chris Brown, you can watch this program tomorrow on MTV at noon.
Finally, a reminder now that voting for the AOL Moviefone Awards is ending soon, and while Goblet of Fire is winning handily in a few of the categories, there is still time for you to vote via this link. Dan Radcliffe, Emma Watson, Brendan Gleeson, and Ralph Fiennes are nominated, with GoF also up for Movie of the Year. These awards will be announced on February 28th.