New Preview of the Goblet of Fire DVD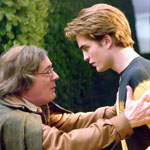 Feb 24, 2006
Uncategorized
Another preview for the Harry Potter and the Goblet of Fire DVD has surfaced online. This preview from The Trades.com of the Wide screen two-disc version of the DVD includes both a breakdown of the bonus features on disc two, as well as a review of the film from disc one. This is a mostly positive review overall, although this editor admits to a chuckle over the following line about a scene from the film:
Because underlying all this is the possible return of the dark lord, Voldemort, whom we finally get to see made flesh (courtesy of Ralph Fiennes and some CGI face surgery) in the final scenes. I had to stop myself from saying, "Now, feel the power of the dark side, Obi-Wan" as Harry and Voldemort square off in their magical duel.
While describing the second disc which includes all the bonus material, the reviewer notes for buyers to be aware "that if you put this disc into your DVD-ROM drive, it will install Interactual on your machine, providing a thematic window into the contents, with links to different Harry Potter places on the web." It reiterated the information we learned previously about all the special features, including that yes there will be an interview with cast members, and those eagerly anticipated deleted scenes. There is a breakdown and time listing of these features found at the link. Finally, the article notes that we can "also participate in the various phases of the Triwizard Cup tournament using their remote control keys. These games aren't your usual left-right guessing games. These are difficult."
Harry Potter and the Goblet of Fire will be released on DVD here in the US on March 7.