Dan Radcliffe Mentions Phoenix Preparations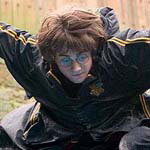 Feb 03, 2006
Uncategorized
Along with all the press yesterday about the new casting for Harry Potter and the Order of the Phoenix film, MTV included in their story a new quote from actor Daniel Radcliffe (Harry Potter). Dan spoke about some of the preparations he has been making in order to better convey some of the deeper emotions Harry experiences in this next movie.
Radcliffe prepared for "Phoenix" by meeting with a bereavement counselor so he could understand survivor's guilt, since his two main relationships in this film — with his godfather Sirius Black and new girlfriend Cho Chang — are grounded in a mutual need to bond with another person after a great, shared loss.

"Sirius is clinging on to James (Harry's father and Sirius' best friend) through me, and I'm trying to know my father through him," Radcliffe said. "The same thing happens with me and Cho. I was the last person there when her last boyfriend, Cedric, was killed."
Thanks MuggleNet!