PotterCast #24: The Final Part of the Arthur Levine Interview and More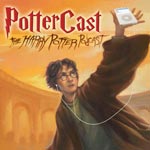 Feb 03, 2006
Uncategorized
PotterCast #24, temporarily held hostage by the release of the site's redeisgn, is now available for download!
In this show:
The third and final portion of the interview with Arthur Levine, co-editor of the Harry Potter books. We talk about the anticipation for book seven, the remaining mysteries of the series, protecting the book from prying eyes, and more.
Will Arthur play Live or Die?
Fan interview with Nick Rhein
Really weirdly targeted advertising
Black Family history analysis (check out the great page at The Lexicon)
The fanlisting now has forum
Paris Hilton as Luna, says Sue? (This was recorded before Ms. Lynch was announced.)
Gandalf the Flashlight Master
Sue and John as the Hogwarts Chorus
The Valentine's Day PotterCast is on the way!
FILKERS: Get ready. You have six days to send us a Valentine's Day Filk (song parody).
Have you filled out the survey?

Running time: 1:26:15
To listen: download and install iTunes, then click here to listen. Everything else is at PotterCast.com – you can also direct download it here, and discussion of the PotterCast is right here. ENJOY!