LIVE NYC Leaky Mug Video Now Available for Download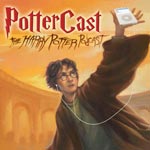 Feb 05, 2006
Uncategorized
We've been promising it for ages, and now it's here, our first video podcast: the Live Leaky Mug from NYC video, documenting our show (which took place on Nov. 12 at the Barnes & Noble in Union Square) is available for download. This show discussed the movie and featured call-ins from Emma Watson, Robert Pattinson, Jamie Waylett, Matthew Lewis and more. HUGE thanks go out to Stephanie Summers for filming and editing this!
Update your MuggleCast feed for part one, and your PotterCast feed for part two. These two files can go on your iPod to be watched wherever you go! Please note that these files are each roughly 90 MB, so dial-up users will have a hard time receiving the files.
If those are too big, we have web versions that are both 90 MB a piece. To download, visit our videos page.