New Clip of Radcliffe, Grint and Watson on Amazon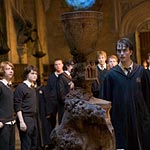 Feb 06, 2006
Uncategorized
The Goblet of Fire product page on Amazon now has another clip available for viewing, in which Dan Radcliffe, Emma Watson and Rupert Grint talk about movies five and six, based on questions from fans.
(And the person who asks the question on the video is wearing the "I Solemnly Swear" shirt designed by Leaky readers. So if you're reading this, Kelly Thompson from Michigan, speak up!)
It is available in high-bandwidth and low-bandwidth.
Dan Radcliffe says:
"There's so much for Harry in the next few books, that I'm really looking forward to doing…the kissing scene with Cho Chang leaps to mind. The Dumbledore's Army stuff, I'm reallly looking forward to that."
Thanks to HPANA for the tip!