Leaky Presents: First Fan DVD Commentary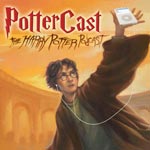 Mar 10, 2006
Uncategorized
We're happy to bring you the first-ever Harry Potter fan DVD audio commentary track. Now that you (in the US anyway, we know) have your DVDs, we hope this track will provide you with some entertianment and even information (in the form of tidbits from TLC's set visits) on Harry Potter and the Goblet of Fire. It is available on the PotterCast feed and also as a direct download.
Now, how does this all work? This is basically an audio file that you play while the Goblet of Fire plays on your TV/computer/etc. Lower the volume on your DVD, and follow these instructions to play the audio at the same time.
HOW TO SYNC YOUR DVD AND THIS COMMENTARY:
Follow these instructions to set up this podcast to play alongside your "Harry Potter and the Goblet of Fire" DVD (which you will need to own):
1. Set up your DVD in your TV/computer/console/other player, and start to play the full-length feature film.
2. When the screen goes from BLUE to BLACK, hit PAUSE.
3. Start this audio track.
4. John will count down ("Three…two…one…click"): UNPAUSE your DVD when he says "click."
5. Enjoy!

PAUSING:
As these are separate video/audio tracks playing simultaneously, pausing will pose a problem. If you pause the video first, and the audio second, unpausing the audio first and video second will probably link you up pretty closely to the earlier synchronization.
Again, you can get this via the PotterCast feed or here, and discussion of the PotterCast is right here.
We hope you enjoy this new feature! We will be doing these for all the films, and repeat ones with guests, in the future.