PotterCast #30 Now Online!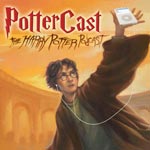 Mar 14, 2006
Uncategorized
Our 30th (30th! Sheesh!) PotterCast is now up and ready for download.
In this show:
-The last from Stuart Craig for awhile!
-Spring-breaking Spartzes and one of their giiiiiiiiiiiiiirlfriieeeeeeeeends (yeah, we said it) crash the party as John's barbecuing and singing laugh track
-Anna Noe, Papa Noe, Ms. Sara and Chester join the party
-Cold-weather-bound Melissa and Sue don't want to strangle anyone basking in the sun. No.
-Our breakdown of the DVD special features is coming NEXT week – John was too busy eating hot dogs to watch it all
-This week's fan art challenge: Death Eater Boot Camp!
-Whoever put the house-elf in the film should be a consultant
-Doris and Guru interview filkstress KelAzma about Horcruxes and more
-Regulus: Pretty dumb, or just smart enough?
-Birthday girl Sue joins the modcast for…guess what…Hufflepuff talk! In true Hufflepuff fairness she ends up talking about all the other houses, too.
-Slytherins don't use smileys. And they like killing things.
-We NEVER said to be mean to the Harmony Podcast! Tsk, tsk!
-In the worst idea ever, John asks Emerson about the Harmony podcast, and we all learn why it's a bad idea to listen to him about anything
-How will we see Krum in book seven?
-Force-feeding Voldemort love potion – where would that lead?
-Can Ron and Hermione offer the same kind of protection as Lily did?
-An over six-minute outtake in which Little (but taller than the other) Spartz, Little Noe, and Ms. MuggleNet take the mic.

Running time: 1:18:21
If you are new to all this podcasting stuff, it's really easy: download and install iTunes, then click here to listen. Everything else is at PotterCast.com – you can also direct download it here, and discussion of the PotterCast is right here. Have fun!