J.K. Rowling: Greatest Living British Writer?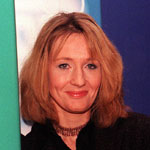 Mar 02, 2006
Uncategorized
In conjunction with the launch of The Book Magazine, a new "quarterly national consumer magazine," they are conducting a vote to ask the public who they believe is the greatest living British writer. Along with such writers listed as Ian Rankin, John LeCarre, Terry Pratchett, Helen Fielding, Salman Rushdie and AS Byatt, is Harry Potter author J.K. Rowling. In an article about this vote, they write :
"The notion of literary greatness is probably best called to account, however, by none other than the woman who has already destroyed all the boundaries within which we like to corral our writers and artists. Joanne Rowling. Harry Potter's creator has, without question, done more for literacy, for books and, indeed, for the perception of this country around the world than any writer, ever. Full stop! If The Beatles had a literary equivalent, J K Rowling is it. But, do sales of 300 million copiesof her books make her great? Does it really matter?"
If you would like, you can vote via this link. Voting for this award runs through April 30, and only one vote per email address is allowed. Thanks Dave!