New OotP Filming Info and More with Jamie Waylett on PotterCast 31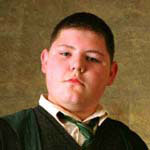 Mar 21, 2006
Uncategorized
Yep, all about Umbridge, the Inquisitorial Squad and more on PotterCast 31! Like almost every PotterCast, this episode is ripe with Harry Potter news, info and interviews that you can't get or even hear about anywhere else but Leaky – this week, Jamie Waylett (a.k.a. Vincent Crabbe) joins us as a co-host, to talk about filming Order of the Phoenix and a lot more.
In this show:
-Slytherin baddie Jamie (Wallet) Waylett, a.k.a. Crabbe, co-hosts

-We talk David Yates, movie five, the actors's new digs, and more

-John's Fan Fiction Challenge: You give him two or three characters and a plot line, and John writes the fanfic.

-Ginny Weasley talk in the modcast

-The next call-in PotterCast – sometime over the next month. The next DVD commentary: Yet sooner.

-Kristin's return to the Mailbag segment

-Chris Columbus: The most underrated HP director?

-Harry's dreams, Trelawney and more in the fan interview

-Lori tries to recruit Guru to the Dark side

-Guinevere vs…white foam?

-Is Crabbe a secret Gryffindor?

-Mr. Blood insists on recurring in conversation – does he = Flat Stanley?

-John visiting Chipotle in Vegas in costume…?

-Sue hopes he gets arrested – and also calls him a "Big Slytherin Snakey Shaped Thing"

-Kristin is the only one to maintain her composure

-How many takes did the ferret scene take? (We learn the ferret was a diva.)

-Jamie says he'd pick pink boxers

-The Bum Double revisited

-The Inquisitorial Squad, O.W.L. Test in movie five, Staunton's "evil-eyed" Umbridge

-Listening to PotterCast on set

-On characters who live in trees (and filming those scenes)

-Jamie plays Live or Die, and promises to play Dance Dance Revolution AND eat a Chipotle burrito next time he comes to the States

-Fan Art Challenge: John driving a moped into a tree

-Goodbye Ears

-Shameless plug for the RENT podcast

Running Time: 1:32:53 (it's a long one, we know, but you don't want us to cut this stuff this week)
If you are new to all this podcasting stuff, it's really easy: download and install iTunes, then click here to listen. Everything else is at PotterCast.com – you can also direct download it here, and discussion of the PotterCast is right here. Have fun!